News • 27th Aug, 19 • 0 Comments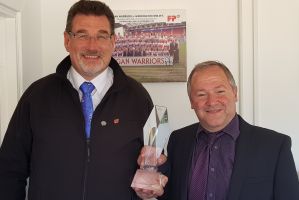 North West firm, FP Mailing L&C have been appointed by yet another sports team as preferred supplier of franking and printing equipment, with Football League One's Rotherham United FC coming on board. Plus, in this two-way partnership, FP Mailing L&C are delighted to announce they are the Programme Sponsors for this season's fixture against Bolton Wanderers at home on 14th September – it's going to be a great match!
Whilst the football season was taking a break, the summer of 2019 has been a busy one for FP Mailing L&C, taking on new clients including Rotherham United FC whose business management team were won over by the personal approach and customer service shown by the directors Stuart Goldenfield and Michael Brindle, and Sales Account Manager, Allan Garnham.
Sport teams now sourcing a combination of high capacity franking machines, multi-function printers, and time-saving software from FP Mailing L&C now include Wigan Warriors Rugby League club, Football League Two's Bradford City AFC, and two teams from Football League One including Accrington Stanley FC and recently appointed Rotherham United FC.
Commenting in a joint statement, co-directors Stuart Goldenfield and Michael Brindle say about the appointment: "We're extremely proud to have developed a reputation for the quality of our products but also to get the feedback on our customer service. With the uncertainty in the economy, our aim is to help local businesses and sports teams save costs and be efficient with their processes. It certainly helps that we're avid sports fans so we're looking forward to taking part in the Bolton Wanderers match in September!"
If you're looking to improve your business efficiency with printing or postal solutions, or benefit from a multi-product discount, FP Mailing L&C are able to offer their expertise with friendly advice and are ready to help on 01925 820 638 or you can email info@fpmailinglandc.co.uk.