News • 24th Jul, 19 • 0 Comments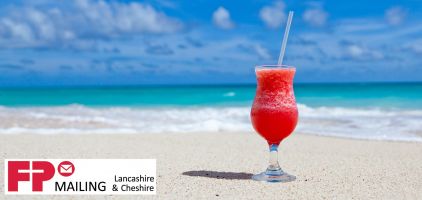 Rather than make it obvious that you're away with mail piling up at your office door, with the right precautions in place from FP Mailing L&C's top tips, and specialist services from Royal Mail, you can protect yourself this summer. Summer holiday season is on the horizon and identity fraud is on so be proactive in securing your personal information and you can quickly and easily reduce the risk of becoming a victim.
How to protect your identity this summer
Update passwords
In the age where Cyber Security and Data Protection has become a business priority, most companies will have already protected all office and personal devices such as your phone, laptop and office computer with passwords. However, it is vital to regularly update these passwords making them complex, using combinations of uppercase, lowercase, numbers and symbols, and to record them in an encrypted password management document – with now being a great time to update everything, before you go on holiday.
Install anti-virus software
It is worth investing in antivirus software and to download software updates when prompted, as these can include improved security defences. This will minimise the chance of opportunists sending fake emails containing malware or payment requests that can easily be mistaken for the real thing, especially when you are glancing at emails and trying to action them whilst sat on the beach!
Check your bank statements
Regularly check your bank statements both business and personal for any transactions that you don't recognise, and report lost or stolen credit/debit cards to your bank immediately. Most banks have an overseas helpline if your personal belongings and identity are compromised whilst abroad, and you should always have the relevant insurances in place including travel and business insurance.
Get shredding
The summer months can be quiet for some departments, and if this is the case for your business, it would be worth using the opportunity to have a declutter and get organised for when the phones start ringing after the holiday season. Before you jet off on your own holiday, why not take a moment to go through paperwork and shred any documents with sensitive information once they've been scanned. At FP Mailing L&C, we have a range of multi-function printers and scanners, as well as document management software that can save a great deal of time for your business.
As a regular activity, you should have a process in place to shred mail once it's been read and before throwing it away. This includes documents, envelopes and parcels, and for the latter, it is best to cut out the name, address and personal details (including financial details) and then shred them separately as parcel packages are normally too large to shred. Alternatively, use a shredding company to collect any paper, parcel packaging and documents who can then provide you with a certificate of destruction.
Utilise Royal Mail's protection services
Mail Redirection
When moving offices or moving to a new house over the summer, remember to redirect your mail. All identify thieves need are a few personal details which can easily be taken from a letter posted to your old door!
Royal Mail Keepsafe
Starting from just £15 for 10 days, and with only 5 days' notice required, Royal Mail Keepsafe is a service that helps protect you, your business premises or home whilst you're away from the office. A Keepsafe application is easy to do by post, online here or over the phone, and once set up, Royal Mail will hold onto all your letters and parcels while you're away (for up to 100 days) and safely return them to you once you're back.
Most identity thieves target those who make basic mistakes in protecting their identities, however if you follow the top tips above you are less likely to be at risk, and you can relax with a cocktail in hand, knowing that your post and identity is protected. Royal Mail provide additional advice on their website and the friendly team at FP Mailing L&C are here to help with our range multi-function printers and document management software, so call 01925 820 638 or complete our contact form here.