Tips • 17th Aug, 17 • 0 Comments

Mailmark franking supersedes the traditional 'crown and die' with a machine readable 2D barcode, and is the most efficient way to frank your mail. There are some franking machine providers who haven't been approached to change to Mailmark, so if you're thinking of getting a franking machine, make sure that Mailmark is available as it comes with a myriad of benefits.
If you're unsure on what the difference is, Mailmark looks like this, and offers the following advantages: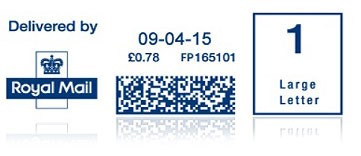 The best prices
Mailmark franking offers the lowest prices for Royal Mail franking products and services. The average saving from using Mailmark is 4p per letter, so don't miss out!
Automatic updates
Whenever Royal Mail make changes to their postage tariffs, there's no need to worry about applying them to your mail as your Mailmark franking machine will automatically update, so you will always pay the best price.
A professional finish
The new barcode technology means your post will always have a professional finish and the overall look of your mail will improve. You can also impress your customers and increase your brand identity by including your company's logo on your mail.
Save time
With a Mailmark franking machine, there is easy automatic selection of Royal Mail products and services so your important mail can quickly be ready for posting to UK and International customers via a range of postage options.
If you are interested in getting a Mailmark franking machine, or would like us to look into your current franking machine agreement to provide a no obligation quote detailing how much you can save, simply give us a call on 01925 820 638 and we would be delighted to help.